The markets have taken a U-turn. Stock markets returned sharply to growth on Tuesday afternoon, following shares in technology companies. A significant 20% jump in Tesla shares and a 4% rise in Apple and Amazon pulled the Nasdaq up 3.7%. On the end of the market spectrum, Dow Jones rose only 0.1%, and the S&P500 added 1.4%.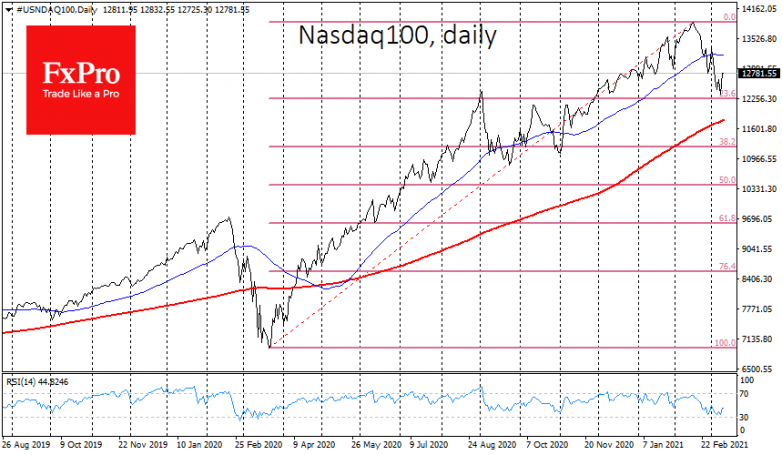 The Nasdaq's exit into correction territory attracted buyers in anticipation of the House of Representatives passing a $1.9 trillion package today. The president is aiming to sign the bill later this week. Expectations for the stimulus have created speculative buying in the markets, anticipating that, directly or indirectly, some money will come into the stocks.
Other sectors have also seen a reversal in the recent momentum. Gold returned above $1710, rebounding from a 9-month low at $1680. On the other hand, crude oil declined for the third day to $66.43 for Brent and $63.2 for WTI, retracing 6.5% from the week's highs.
The currency market also saw a reversal in the dollar's downward trajectory. The DXY index is down 0.3% to 92.10 after touching a 3.5-month high.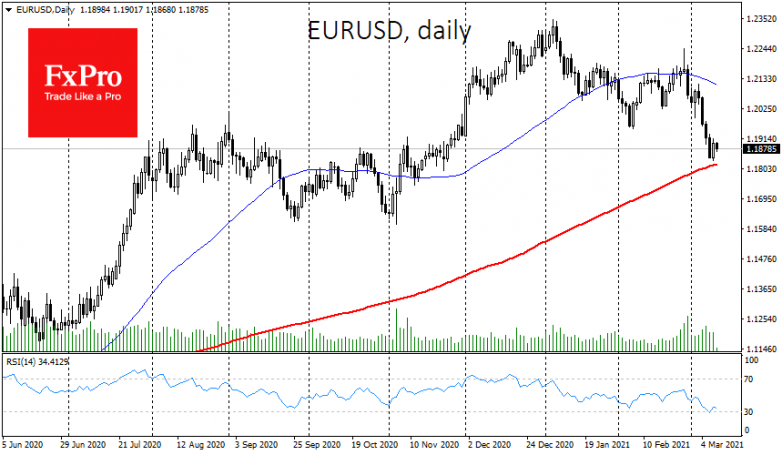 However, traders should remain cautious as the market performance yesterday may be nothing more than a brief bump in a trend formed about a month ago.
In the currency market, the dollar was overbought against the DXY, the euro and the yuan. It was extremely overbought vs franc and yen after a month of a dizzying rally. Yesterday's pullback and its possible development in the coming days could remove the dollar's excessive overheating, after which the previous trends could return.
On Wednesday morning, the currency market as an always-on barometer indicates a renewed buying of the dollar against the yen and the franc, which previously tended to move along with US government bond yields rise. The yield of the American 10-year note fell yesterday to 1.54% from 1.60%. This is a pause in the rising trend, but at these levels, bonds are still giving back to investors more than the average company in the S&P500 via dividends.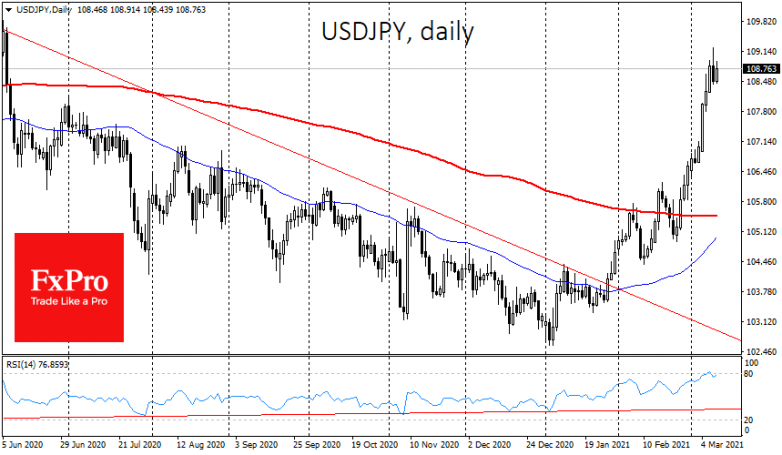 After the initial rebound, the Chinese market has resumed selling, which has almost nullified the day's tumultuous start. Markets there seem to be dominated by selling on the growth following comments from the Central Bank that markets are overheating, the suspension of Ant's IPO and mutual discontent with Alibaba and Communist Party policies. Asian caution is also weighing on Europe's markets, and US index futures on Wednesday retreated from recent highs.
The FxPro Analyst Team