Inflation remains the biggest threat to emerging markets. In contrast to advanced economies, high current or expected inflation figures undermine the stability of the national currency. In response, emerging market central banks are forced to actively raise key interest rates to stem capital outflows from the country.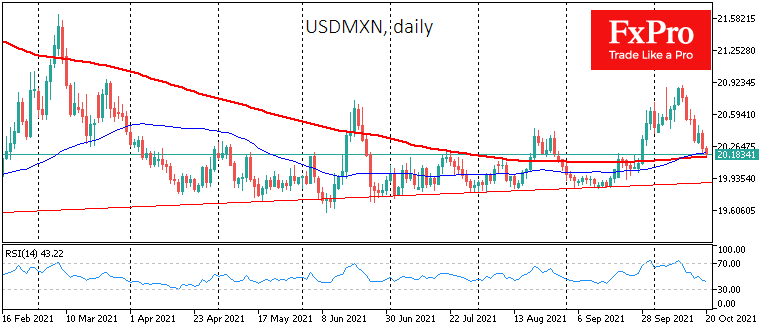 Active monetary policy tightening keeps national currencies from weakening, and the global recovery of risk demand further supports Latin American currencies. A remarkable turnaround is seen in the Mexican Peso. The USDMXN pulled back from levels near 20.90 just over a week ago to 20.20 on Wednesday, near average levels for the past year. A further step down this road may increase the bullish stance for the MXN.
Despite accelerating inflation, the currency market is signalling confidence that Mexican price growth remains under control as the Bank of Mexico is actively raising rates with its latest tightening in late September. Further recovery in demand for risky assets leaves the potential for a short-term strengthening of the Mexican peso to 19.9 per dollar before the end of the month.
The FxPro Analyst Team