Bitcoin is set for another all-time high near $37,500 before initiating a moderate correction. At the time of writing, BTC is showing a 2% increase over the day and is trading around $37K. Currently, the dynamics of the first cryptocurrency, as well as the entire market, does not appear to be in the final stage of a bubble, to be followed by an immense crash. In recent weeks, we have seen a cautious but regular rise to new highs. Corrections are occurring, but Bitcoin quickly goes through consolidation phases and continues to grow. The benchmark cryptocurrency is now denying the very notion of being overbought.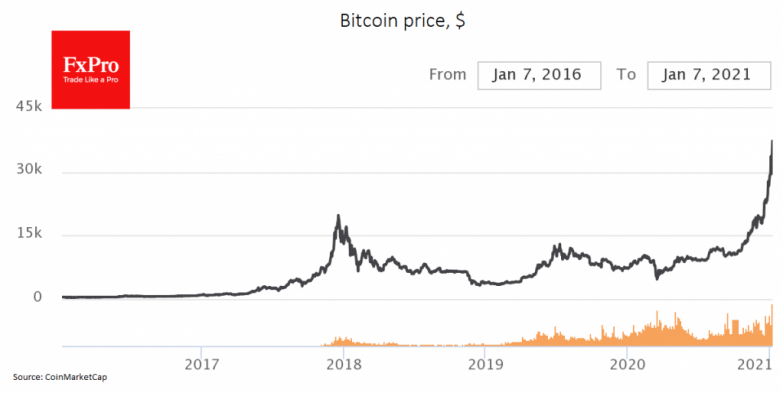 The Crypto Fear & Greed Index for Bitcoin and major cryptocurrencies has been in "extreme greed" mode since early November. The values shown by the indicator are similar to those that crypto market participants witnessed in June 2019, when another phase of the market correction began. Nevertheless, technical indicators cannot overpower the demand for the asset, which pushes the price of BTC up. It seems that it is the big capital that makes the price dynamics more moderate and consistent, because it is not prone to impulsive decisions, unlike retail investors, many of which took profit at $20K, and now may consider opening positions at the current very high levels.
Another major historic moment for the crypto market was when the total capitalization surpassed $1 trillion. Due to some decline, we now see the value below the $1 trillion threshold, but there is little doubt that the market will soon confidently surpass this crucial mark again.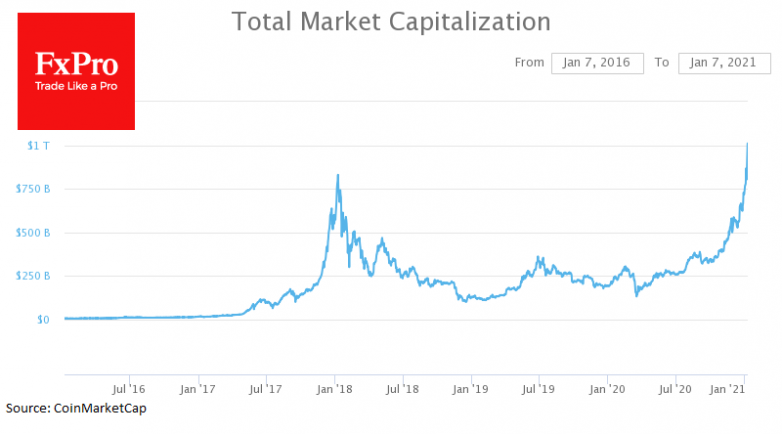 Crypto market participants believe that the U.S. Democrats' victory should be the next impetus for the crypto market growth. A generous economic stimulus and printing of new dollars should be the basis for broad asset diversification among institutional investors. Bitcoin is increasingly being heralded as the digital equivalent of gold, but in reality, we should remember that current investments in Bitcoin are a temporary parking lot for funds at a time of increased market liquidity and inflated stock and bond prices.
Retail non-professional investors still do not fully trust the current market, but at some point, FOMO will switch to a new stage where it will be important not to miss the moment when a hypothetical "shoe shiner" talks to you about the prospects for Bitcoin investments.
The FxPro Analyst Team