Markets are mixed on Wednesday morning. Asian markets and European index futures are losing between 0.3%-0.5%, while Nasdaq100 and Nikkei225 are gaining the same amount, supported by robust corporate reports from technology giants such as Microsoft.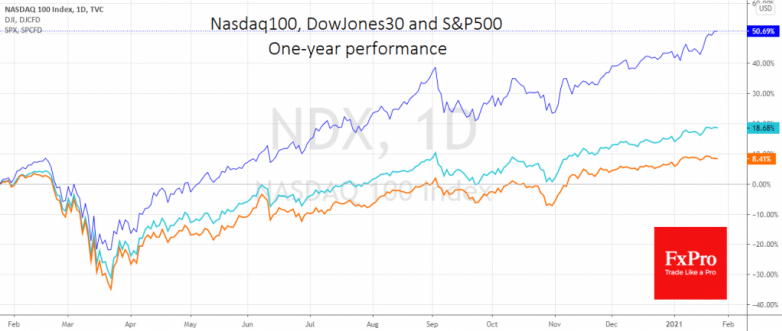 Despite active vaccinations, there are still a few visible signs of the effectiveness of these measures. The number of new cases and deaths has fallen slightly from record levels, but only with the help of January's severe restrictions, which are still being re-enforced and tightened in some European countries.
There is no surprise that investors are still in love with Big Tech in the current environment. In contrast, there remains some pressure on the Dow Jones index, which lost 0.1% over Tuesday, with futures on Wednesday morning losing another 0.2%.
Of some concern is that rising volumes support this moderate downtrend. At the Dow's peak, there was a drop in trading volumes. The volumes have picked up on the downtrend in recent days, which could be an early signal of elevated stock selling by professional traders.
But so far, this thinking is nothing more than a reason to look more closely at the market after today's Fed meeting, rather than a reason to become bearish.
There have been no clear bearish signs that recent Big-Tech trade has stopped, with the Nasdaq still performing better than the S&P500 and the Dow Jones 30. That contradicts the idea that investors are already starting to take a closer look at the value companies that plummeted last year. Interest in value equities can only really emerge when there is a simultaneous easing of restrictions and a decline in coronavirus cases.
It is possible that the Fed, with its expertise later today, will adjust the markets' expectations of the economic outlook in light of the start of vaccinations. The FOMC and Jerome Powell view could both return markets to robust growth on promises of new support measures or add pressure by hinting that financial markets do not need more support.
The FxPro Analyst Team