The S&P500 closed Wednesday down 2.6%, while DJI lost 2%, which predetermined the markets' negative sentiment on Thursday morning, taking away 1.8% from the MSCI's broadest index of Asia-Pacific.
The sharp sentiment reversal was illustrated by Apple's performance, losing more than 3% despite a better than expected quarterly report. While the attention of journalists and traders is focused on the success of communities on Reddit as they battle hedge funds for GameStop, AMC and Nokia with multiple enormous intraday rises, the markets as a whole have shifted into a broad sell-off.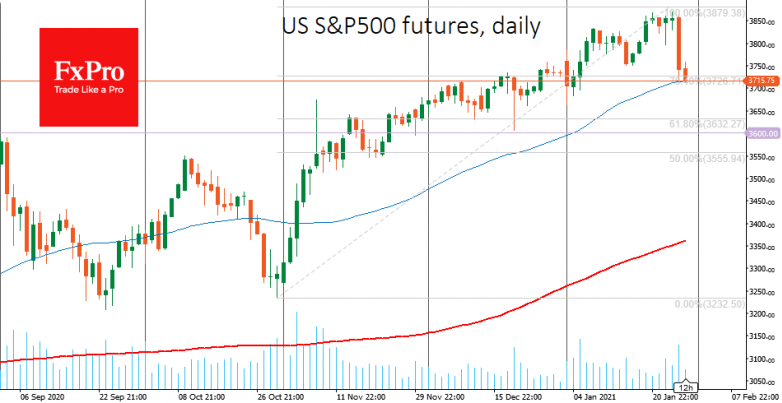 The S&P500 index is testing support in the form of the 50-day average at 3700. The index's ability to hold above this line could attract buyers on the dip in the days ahead. A further decline would open the way for a deeper correction to 3600 or even to the 3400 area, where the 200-day moving average passes.
The sell-off in the markets intensified after the Fed meeting, reaching an alarming scale at the close of trading and indicating a predominance of selling among institutionalists. The tendency to take profits from the rally in the previous months can be attributed to the Fed's unchanged stance.
Financing relief programmes will draw liquidity out of the market. Last year, enormous capital in markets was balanced by the first and biggest Fed QE phase. Yesterday, however, Powell made it clear that the Fed will continue the $120bn/month buying programme for now, with $80bn for US Treasuries.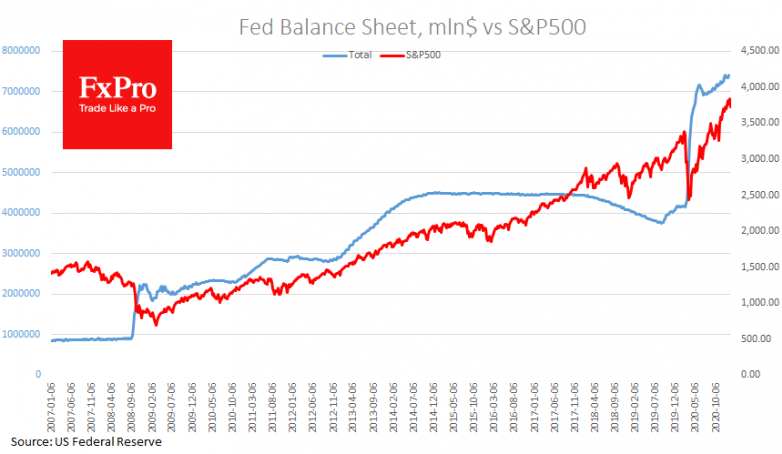 This is bad news for the stock market, as some of the money promises to move into US government bonds in the short term. In such an environment, it will be more difficult for assets to grow.
The currency market seems to have crossed the Rubicon, and struck the 50 SMAs, at least in EURUSD and USDJPY. This could also be a trend reversal signal for the stock market.
EURUSD fell to 1.21, breaking the support of the 50-DMA and going to the area of 2-month lows. Comments from ECB officials supported the downward momentum in EUR. They noted that there are weapons in the arsenal to pressure the euro exchange rate and that markets are underpricing the central bank's readiness to cut the rates.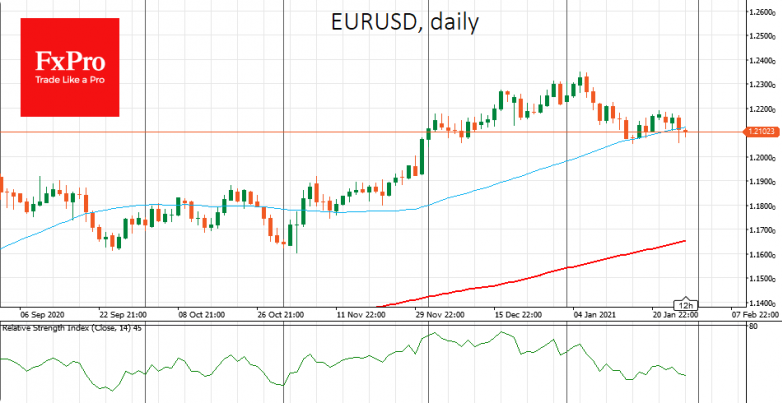 ECB easing is positive for European stocks, which may perform better than many other markets on rate cuts and QE expansion. However, it is also a negative for currency pairs with the euro, which can kick-start a more profound correction after the single currency's rise last year. A break below 1.2050 has the potential to open a direct path into the 1.1900-1.1950 area.
The FxPro Analyst Team