The price of bitcoin changed little at the beginning of the working week, remaining around $34K. The end of last week passed under the banner of "speculation" for the crypto market. First, it was WallStreetBets, and then the crypto market was rattled by Elon Musk, which led to Bitcoin's short-term jump above $38K. But all speculative outbursts usually end the same way: down. This time was no exception, and we are now witnessing Bitcoin at roughly the same levels as it was before the speculation. Nevertheless, many who participated in the process and have a good understanding of what is going on earned very well on such fluctuations.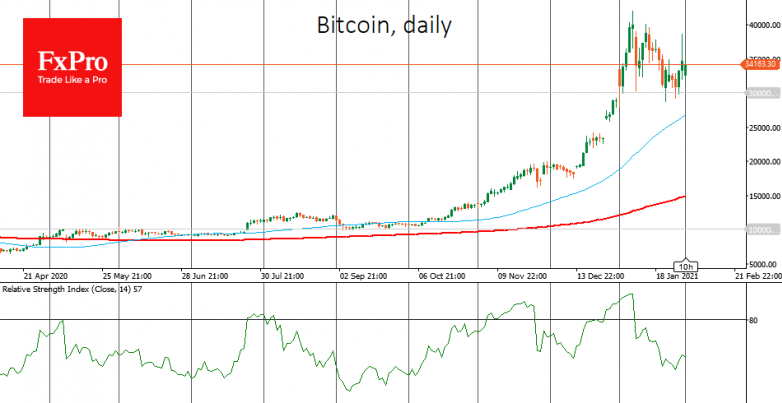 The cryptocurrency-meme Dogecoin (DOGE) proves once again that it can well act as a tool for high profits. The cohesive actions of the crypto community led to explosive growth. Of course, the price has since remarkably decreased, but it is still well above the pre-pump levels. In fact, such episodes only worsen the already controversial image of cryptocurrencies, emphasizing the extreme speculative component of the crypto price dynamics.
Another unexpected crypto hero was XRP. In the last 24 hours, XRP has shown 48% growth. In recent months, the Ripple project has often been on the front pages of the crypto media. After the news of the SEC lawsuit, the price of the coin fell sharply. The current growth is attributed to Ripple's management's response to the allegations. The community saw Ripple's willingness to defend its position as a good sign, which led to the recent spike.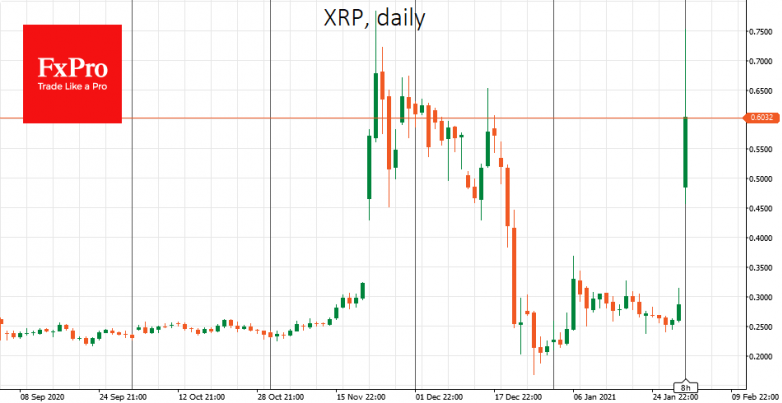 In the background, there is also news that has good potential to push cryptocurrencies higher. Grayscale crypto fund alone has bought 40K BTC since the beginning of 2021, while miners were able to mine 26K. This news can be viewed from several perspectives. On the one hand, it is obvious that supporting the first cryptocurrency may not cost that much money if we consider these investments in the traditional market context. On the other hand, we see that the shortage of coins in the market does not lead to a sharp jump in price, and the sales of earlier investors cover the demand from large capital at the moment.
A positive news backdrop often leads to growth with little delay, and perhaps this is the case. Nevertheless, Bitcoin is holding above $30K, bouncing back quickly after corrections, and current price levels were tough to imagine just a few months ago. With some luck, Bitcoin has a chance at another attempt to surpass $40K.
The FxPro Analyst Team