Global markets seem to have managed to avoid a downward spiral from the start of the month. US stock indices, followed by the rest of the world, made steady gains, adding more than one and a half per cent for the S&P500 and MSCI Asia-Pacific ex-Japan, while Nikkei225 gained 0.8%.
Against such an upbeat backdrop, we continue following some caution the dollar's strengthening against the yen and franc, the continuing pullback in the euro and the hovering of the pound around 1.37. On the one hand, we see exact pressure on the defensive currencies. But on the other hand, the dollar index is developing its corrective recovery, a rare combination with a sustained strengthening of global equity indices.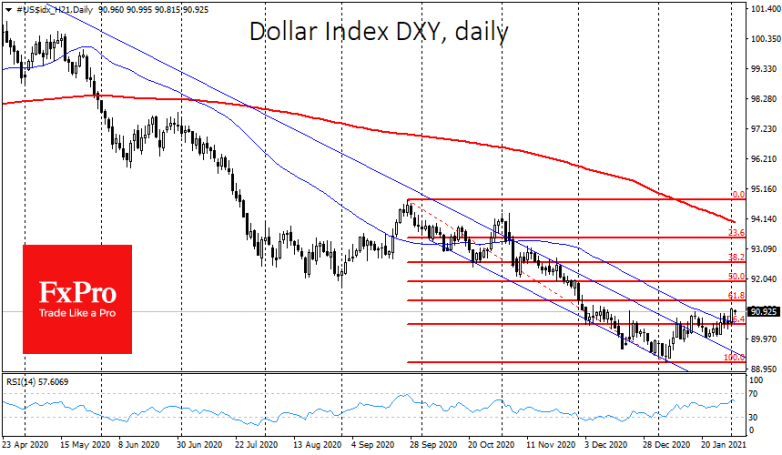 Simply put, dollar dynamics so far make one wary of strengthening markets.
Meanwhile, strengthening risk demand has quickly sent oil from the lower end to the upper end of its trading range for the past three weeks. Brent has jumped 3.5% since the beginning of the week to $56.8. Breaking $57 would be a test of the January and yearly highs. The bulls are potentially targeting $57.9 from February 24th, last year.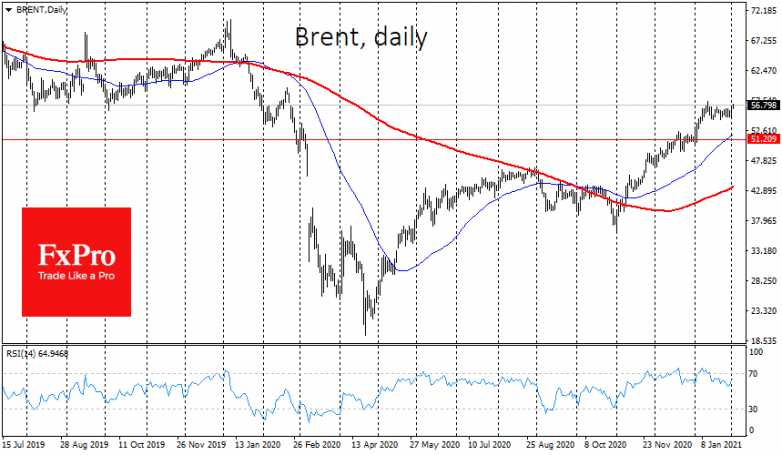 US WTI is recovering much more briskly than it's North Sea counterpart, already testing $54, the February 2020 highs. There are good reasons for this: accelerated depletion of US crude stocks in recent weeks and stagnation in production at around 11m barrels per day.
Drilling activity is increasing at the same time. However, there is a time lag of 4 to 9 months between rigs development and oil supply. The shale deposits are also depleting much faster, requiring more drilling to maintain the same production volume.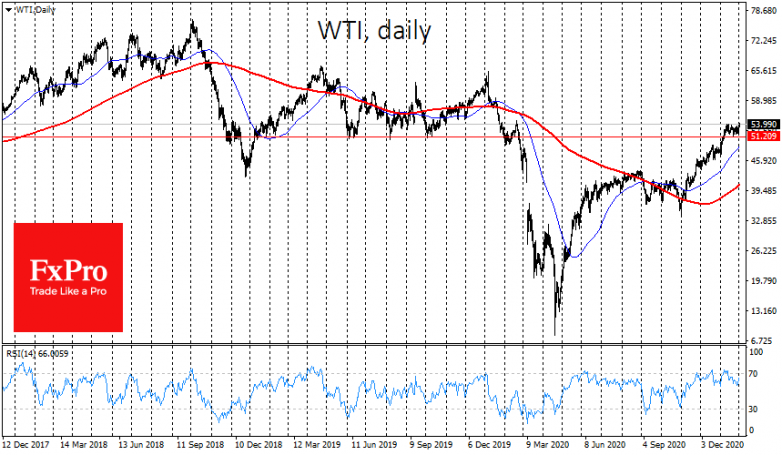 Due to these fundamentals, WTI has managed to return to the trading range with support at $50. It has methodically received support since late 2018. With further support from the demand for risky assets and reliable economic recovery, WTI could settle in the $55-$65 range, where it spent much of 2019.
The FxPro Analyst Team