Brent crude topped $70 on Monday morning amid optimism around the economy. The price climbed to $70.91 at one point, its highest level since May 2019. US WTI reached $67.80, the highest since October 2018. By the start of trading in Europe, the price eased somewhat to $67.00.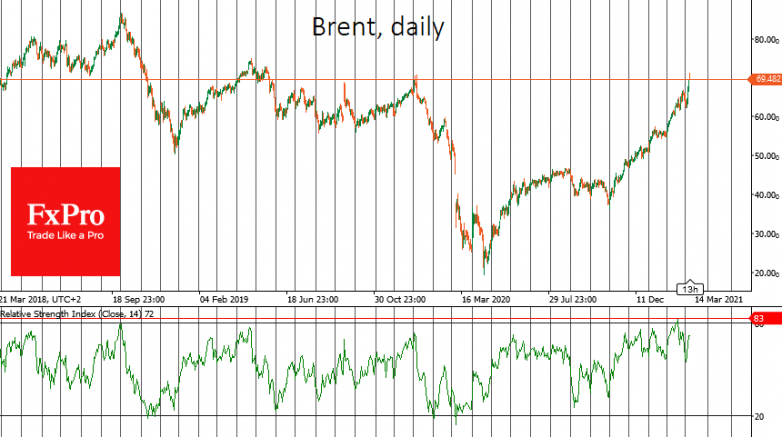 The price was pushed up by the US Senate approval of a 1.9 trillion package amid a strong jobs report published on Friday. Besides, last week OPEC saved strict production quotas with modest exception to Russia and Kazakhstan. However, at current production levels, global reserves are falling markedly.
Separately from this, US production in previous weeks was noticeably influenced by weather conditions. For example, the number of working drilling rigs rose by only 1 unit to 403, a 45% drop from the level one year ago.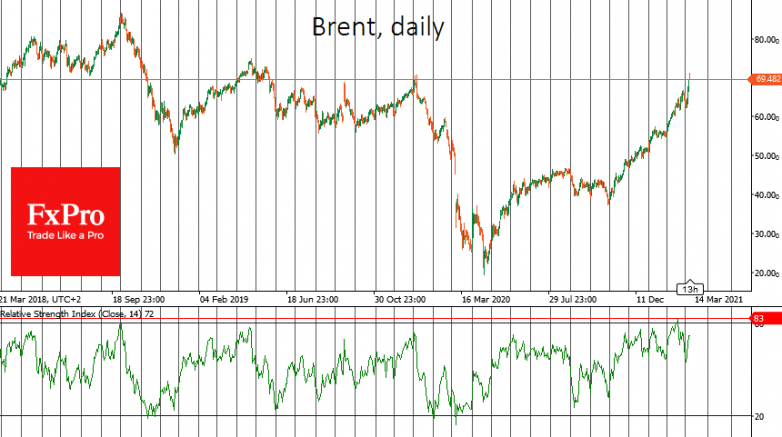 On balance, the recovery in oil supply halted last month, while the demand outlook has brightened.
The price increases have turned out to be very steep and truly V-shaped. Producers in the USA have not kept up with the activity increase, and they are also being suppressed by two other macroeconomic trends.
The first trend is a big investment focus on alternative energy sources, which reduces investment in "dirty" technologies. The second trend is the rapid rise in long-term interest rates. This makes borrowing in debt markets much less profitable to finance production than in previous periods after the price collapse.
Due to these trends, oil production recovery has not been able to keep up with the rush of demand, sending prices into a tailspin. An important indicator of market sentiment will be the $77/bbl WTI area, where a downward reversal took place in 2018. Before that, from 2009 to 2012, dips to that area were followed by an upward reversal.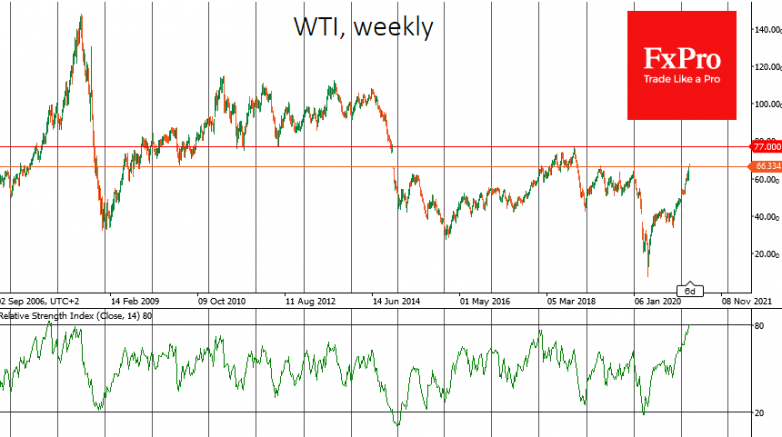 If the rise above $70 does not force OPEC and US producers to accelerate production recovery. In that case, the next "target" for Brent and WTI could be the $100 area, where prices could end up as early as next year.
The FxPro Analyst Team