Bitcoin was once again supported after a brief decline. Sellers' pressure eased on the descent to $54.5K, and the benchmark cryptocurrency has gained 6% in the last 24 hours, rising above $59K at the start of the day. The latest correction episode only attracted new buyers who were waiting for a pullback to strengthen their purchases.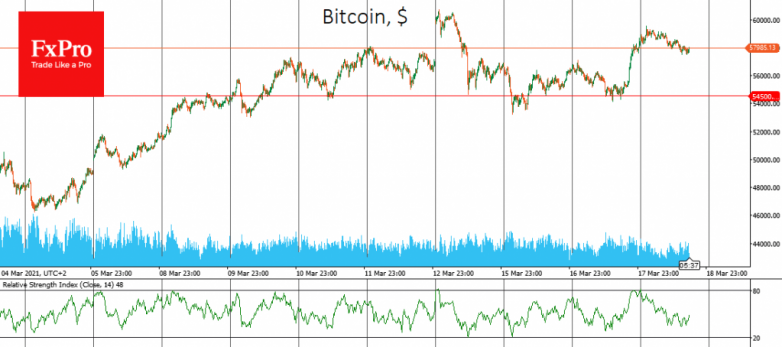 The Fed's soft tone reassured market participants that the printing press will continue to work. So, investors still have reasons to buy stocks and invest part of the portfolio in cryptocurrencies, where Bitcoin, as the flagship of the crypto market, becomes the primary beneficiary.
Morgan Stanley, the largest U.S. bank, has announced that it will give its major clients access to funds, three of which allow them to own Bitcoin. Thus, major institutional companies are caving to pressure from their clients, as they want to take advantage of the rally in the crypto market. Somewhat expectedly, this is not the last such offer from investment banks.
Visa contributed to investors' positive sentiment, with its CEO saying cryptocurrencies are likely to become a widespread means of payment over the next five years. The largest processing company in the world openly states that cryptocurrencies are now part of its global strategy. Visa will allow clients to buy cryptocurrencies within the company's ecosystem. MasterCard will soon have similar solutions.
It remains to be seen what attitude to cryptocurrencies the regulators of major economies will have. All major governments are preparing to issue digital tokens of national currencies. The main question is: why do they need competitors in the form of Bitcoin or stable cryptocurrencies that break records every year in terms of user growth?
While there is no answer, the "crypto-party" will continue. Miners will earn remarkably, keeping the networks running. Sales of crypto kittens and JPGs will generate hundreds of thousands and millions of dollars as a new digital form of art. Big capital will continue to inflate the value of digital assets, making huge profits on the desire to get rich quick. However, even the best parties come to an end sooner or later, and the silent monitoring of regulators does not mean they agree with what is happening.
The FxPro Analyst Team