Since last Friday, Bitcoin has been in the $56K-$60K range, facing a lack of momentum to retest the round level. Apparently, market participants prefer to pause and let cryptocurrencies cool off before taking the next step up. While so far, the resistance at the $60K level acts as a powerful obstacle to further market growth, there remains a rather optimistic attitude among institutional investors regarding the prospects of the cryptocurrency market.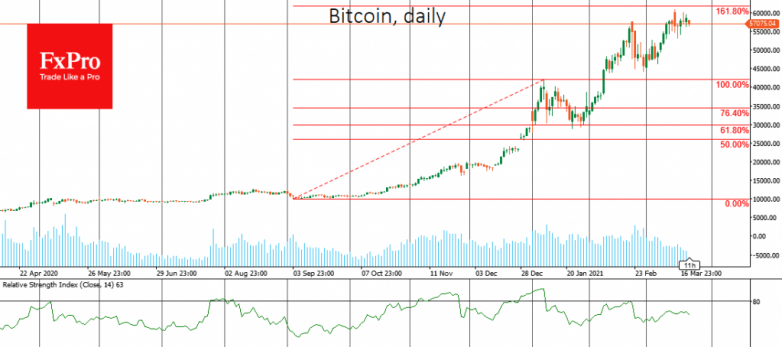 Bitcoin's rally began with a decisive break above $10K and ran into its first major correction when it jumped above $40K. The $60K-$62K area is 161.8% of the $10K to $40K rally. A growth above that level could very quickly take the price to $80K.
The growth triggers are firstly found in the actions of corporations and funds. Thus, it became known that Grayscale launched 5 crypto funds of $45 billion. However, this company, as well as MicroStrategy, are quite often sources of news, so the effect of such news becomes weaker with time. An ideal scenario would be the emergence of new large, optimistic institutional market participants.
Due to Bitcoin's proximity to all-time highs, all possible records are being broken by miners, who made $366 million last week, despite halving last May. As a result, lower issuance has been an important part of the asset's price growth.
In addition to Bitcoin, NFTs are becoming an increasingly frequent newsmaker in the crypto market. This direction of the market is considered as promising as decentralized financial applications (DeFi). As always, most attention is attracted by the opportunity to make a lot of money, which famous people use by selling exclusive rights to some digital intellectual property in the form of an NFT token. In the near future, NFT will enter our ordinary life, but right now, on a wave of hype, artists are selling JPG files for millions of dollars.
Significant price momentum can also be expected from Cardano (ADA), which has rapidly burst into the list of leading altcoins through its addition to Coinbase Pro, as well as the addition of the token to Bloomberg terminals. This news points to the potential for professional investors to increase their use of the Ethereum rival token. In February 2021 alone, ADA jumped nearly 300% in value.
The FxPro Analyst Team