Today is PMI day when IHS Markit publishes the preliminary estimates for March for a host of major economies, and the European figures are exceeding expectations.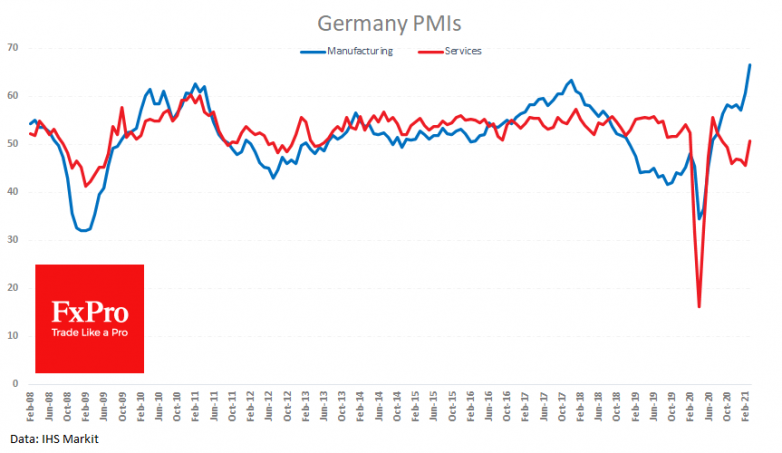 Flash Manufacturing PMI for Germany, the eurozone's locomotive, rose to 66.6, a record high (data since 1996), well above the forecasted 60.4. Service sector numbers are much more modest – a return to growth territory (above 50) and a 7-month high of 50.8 (46.4 expected).
In previous months, strong PMIs have often been a big help to the Euro. But this time, the buyers' strength was only enough to stop EURUSD on its approach 1.1800. For the most part, the survey was conducted before the announcements of an extended lockdown in Germany, which promises to seriously affect the final estimate.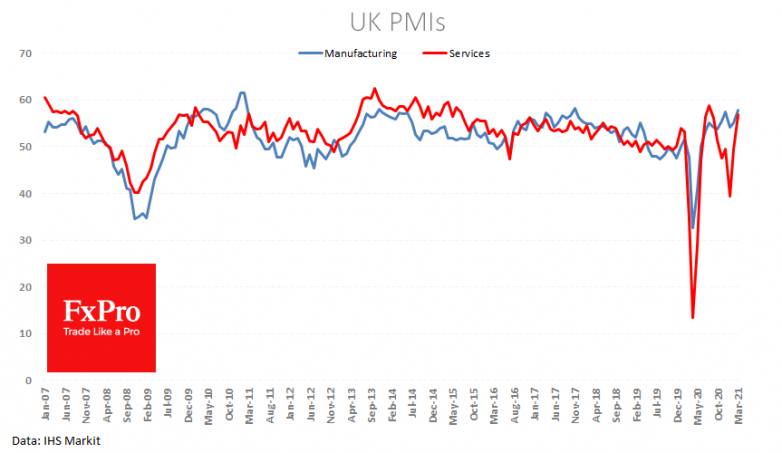 UK PMIs also markedly exceeded expectations. The manufacturing index rose to 57.9 (three-year high), and the service sector rose to 56.8 (7-month max), considerably better than expectations of 55 and 51.1, respectively.
Britain's reading looks healthier, as the recovery in services is linked to a successful vaccination programme, so it seems more robust. But neither has helped turn the pound higher, currently stuck at $1.3700, hovering at the last six weeks' lows.
The FxPro Analyst Team