The end of the week for the crypto market could be very challenging and nerve-racking, while the negative momentum could intensify this weekend if the sell-off does not end before then. Bitcoin is down more than 4% in 24 hours and is trading around $52,300. Even more telling, is the widespread drop in coins over the last 7 days, during which Bitcoin has lost more than 11% and the top 10 altcoins are down 12%-23%. The crypto market as a whole has turned red. The total capitalization of the crypto market sagged by almost $100 billion overnight but is still at a very high value of around $1.6 trillion.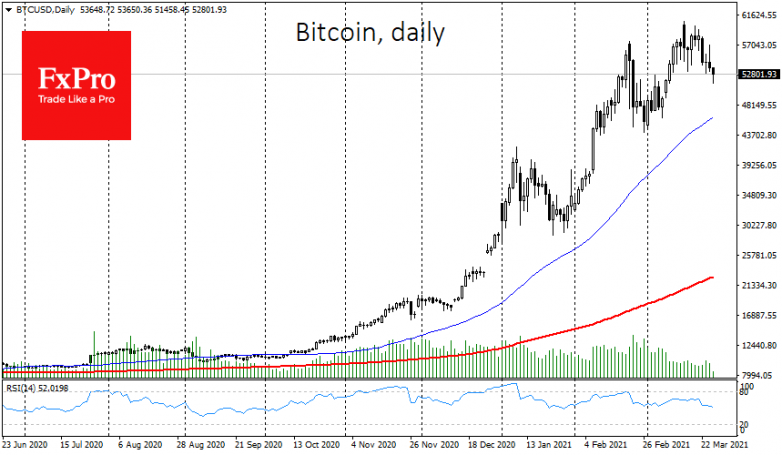 Bitcoin, followed by the entire crypto market, could go down following the S&P 500, with which the benchmark cryptocurrency is forming an increasingly clear correlation. Both are quite overheated by the stimulus.
The Fear & Greed Index for Bitcoin and the major cryptocurrencies fell 5 points overnight to a value of "60," which corresponds to the "Greed" mode, which is already bordering on the neutral zone. In theory, a decline in the index means cooling down after overheating, freeing up room for growth. However, in the current environment, approaching the "fear" zone could actually mean outright negativity for the market without the prospect of an imminent reversal.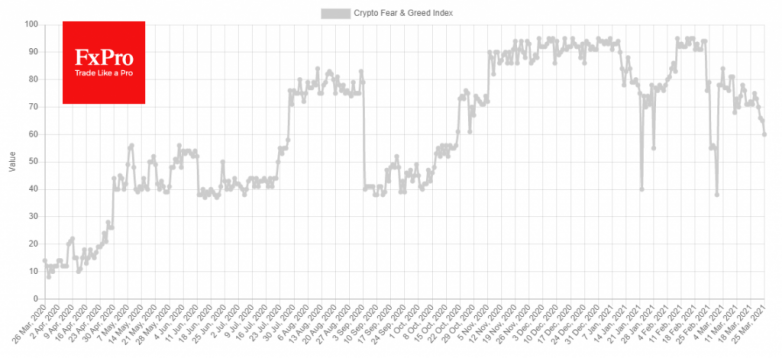 Data from CryptoQuant's analysis of blockchain activity about moving more than a billion dollars to the Gemini cryptocurrency exchange and the suggestion that we may see increased selling in the future has caused fierce resistance in the market. The cryptocurrency community decided that this data could be interpreted differently. This kind of data doesn't just come from CryptoQuant, and ignoring the massive 240,000 trader closings and other metrics indicating the depletion of bullish momentum can be very costly for short-term Bitcoin traders.
Yesterday's announcement by Elon Musk that Tesla would now accept Bitcoin as payment for cars, and would not convert them into dollars, triggered a short-term boost in Bitcoin, after which a correction began. This announcement was supposed to cause a massive upward momentum for Bitcoin, but the market decided otherwise. Obviously, news from Tesla or MicroStrategy is no longer stimulating the market as much as it used to. Bitcoin needs new big buyers, and if they don't appear soon, the rally will be in question.
The FxPro Analyst Team