Asian markets are trading flat on Tuesday, with Tokyo and Hong Kong markets at opposite ends of the spectrum. The Topix index is losing around 1%, while the Hang Seng is adding almost as much.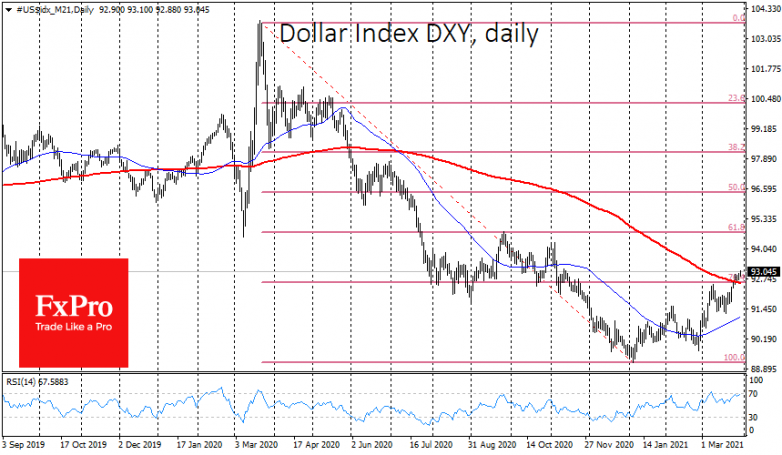 However, this fragile equilibrium in stock markets should not mask the dollar's ever-increasing position against a basket of major currencies. The DXY has added on seven of the last nine trading sessions.
Interest in the dollar is supported by rising interest rates on long-term bonds and emerging market caution, which has gained momentum in recent weeks.
Interestingly, the currency market movement again does not look like a massive short-squeeze. However, there was a lot of talk on Friday and Monday about the Archegos Capital fund's margin call, which caused a $30bn sell-off.
The Japanese yen and Swiss franc have returned to decline, renewing 12- and 8-month lows against the dollar, respectively. The single currency, which recently acts as a safe asset, is also losing ground, albeit at a much slower pace than traditional havens.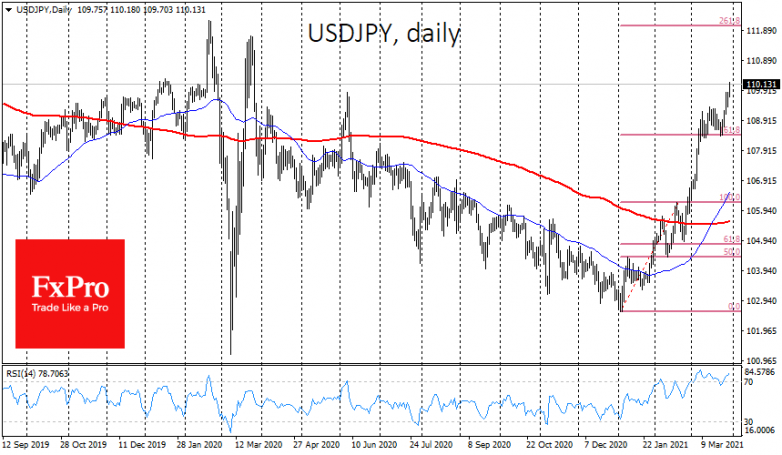 On the technical analysis side, the dollar has crossed the red lines against its major competitors, suggesting a sudden rise in the near term.
Thus, the Dollar Index has climbed above 93.00 above its 200-day average and is gradually gaining strength in this area. Without significant technical barriers, the index's uptrend can continue till 93.6-94.0, the 61.8% level of May-January's declines and the pivot point of the beginning of November. A more distant target is 94.7, at 61.8% of last year's trading range.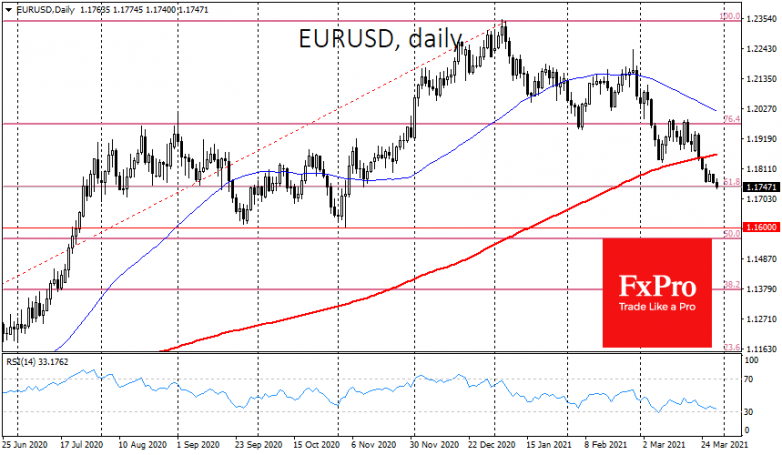 EURUSD continuing its descent seems to be targeting 1.1600, the support area of November and September. In case of further declines, look out for the pair's performance around 1.1500, an intermediate round level and the March 2020 peak area.
USDJPY took 110 earlier in the morning and overall has been very aggressively rising, being in the overbought area for most of March. Technically, the Yen found itself in the thin air territory, with no significant levels to latch on to, all the way up to the area of 111.7-112. However, it would be surprising if the pair can sustain all this growth without any noticeable corrections.
The FxPro Analyst Team