Some experts commented yesterday that if the Bank of Canada were to cut borrowing costs it would follow likely on the back of global incentives due to the virus spread, and less because of the domestic economy itself.
So, the Bank of Canada did slash the key benchmark rate yesterday by 50 bps from 1.75 percent to 1.25 percent, registering the lowest level since middle of 2018, noting that the move was primarily because the coronavirus would heavily hurt the economy. Moreover, the committee would continue watching developments and adjust monetary stance further if it would be necessary.
The pair USD/CAD went bid after the Central Bank announcement, even despite the fact price had been moving higher since yesterday in expectation of a possible rate cut. The headline anticipation was for steady level of about 1.75 percent, however after the U.S. Fed suddenly slashes rates by 50 bps, FX markets began betting on a BoC lowering as well.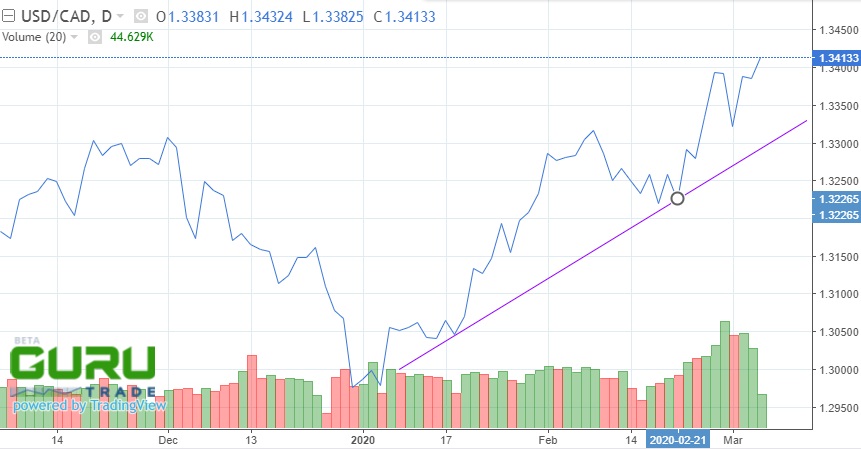 A 50 bps cut was more than market participants were waiting for and this sent USD/CAD to resistance level at the 127.2 percent Fibonacci extension from the highs, registered in November 20th, 2019 to the low levels, marked on December 31st, too close to 1.3430. Above there, is resistance level at Friday's highs near 1.3465. Horizontal support blunders against at 1.3330, and dips to 1.3250 are likely to be purchased, as trend line and horizontal supports meet close to that level.
As Canadian key benchmark stays at 1.25 percent, being higher than most G7 countries, markets may begin to hope for another rate cut by the Bank of Canada. If such a scenario were to follow, the pair USD/CAD could advance higher. On a daily timeframe, it's easy to note how price has been moving higher off the December 31st lows and pulled back at resistance near 1.3330 to the 200 Day Moving Average as the RSI became over purchased, forming a downward sloping channel. On February 21st, price came across the flag. The aim for a flag the length of the flagpole, which is supplemented to the breakout point of the flag. In this case the target level is near 1.3590, just slightly above the horizontal resistance level from May 31st, the previous year 2019. One knows of course, that nothing is moving forthright, and a pullback would offer the RSI place to unwind as purchasers may consider stepping in and buying the dip.
Traders now will await and be focused on further virus developments across the globe. With rates at 1.25 percent, Canada still has room to lower. If the virus continues to hurt global growth, including Canada, there may be more stimulus ahead from the Bank of Canada.
Meantime, the Loonie dollar eased by 0.25 percent, to 1,3418 at 1442 GMT.