One can notice one or two drivers on the FX market, but it didn't work out either without some cross-currents. US-China pressure remains high as Washington has heightened tension on China and continue to stand firm on the Sep.15 deadline for TikTok issue. Beijing, by the way, would rather prefer it to be restricted than sold.
As for the FX market dynamic, one should mention, that on Sep.1 the euro reached $1.20, UK's pound was near $1.35, whereas the Aussie boosted towards $0.7400.
ECB's Lane notes regarding the role of the exchange rate as an input into its economic models and predictions propelled a dollar short-squeeze rally. Market participants were foreseeing that after the ECB meeting the focus would shift to the FOMC meeting (Sep. 15-16), where the fallout is likely to bolster the dovish overtone of supporting an average inflation target, where there is still a broad strategic uncertainty.
Referring to Dollar Index one can see some minor moves, remaining steady at 92.00-94.00 trading levels since mid July. The greenback has been leaning towards sideways. It reached its highest level in almost a month in the middle of the previous week touching 93.65, just above the upper Bollinger® Band for the 1st time in several months. The dollar index measuring the greenback value against a basket of 6 main currencies went down by 0.30 percent, to reach 93.06 at 0828 GMT.
The MACDs are aiming up, and the Slow Stochastic is just below the overpurchased zone. The 92.70 level seen around previous week's ECB meeting corresponds to a (50 percent) adjustment of the rally from Sep. 1. A move over the 94.00 territory would target at a range 94.75-95.50.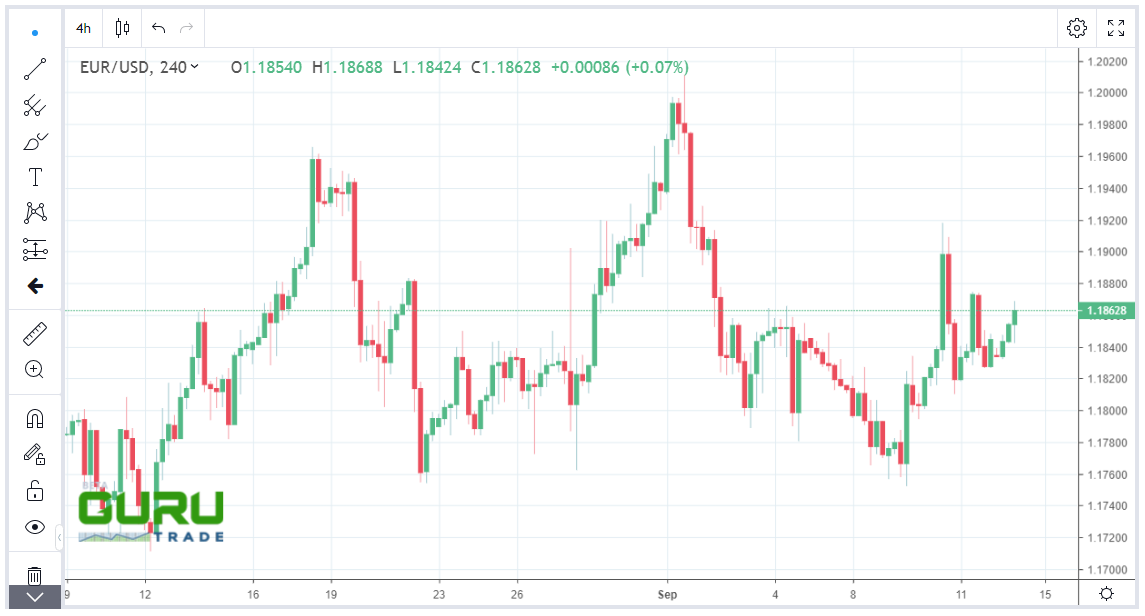 With respect to the euro, it sharply dipped to a 6-day slide in the middle of the previous week, ahead of the ECB meeting. It will start the new week with a 3-day advance in tow. ECB's chief's effort to lessen the euro's strength triggered the market bid it a few ticks through the (61.8 percent) retracement objective of the drift that began after it sharply reached $1.20 level on Sep. 1. The single currency began the week with a minor growth, being more precisely with a 0.14 percent jump, reaching 1.1868 at 0834 GMT.
Both the MACD and Slow Stochastics seem to completely mitigate the pressured situation and appear poised to slide higher in the nearest days. One can presuppose the break from this level takes place to the upside, but the range affair can linger a bit longer.