Half of top 10 digital assets according to capitalization ratings began the week with the negative moves. After bitcoin crossed $10,000 on Friday morning for the 1st time since February 2020, a day after it dropped again.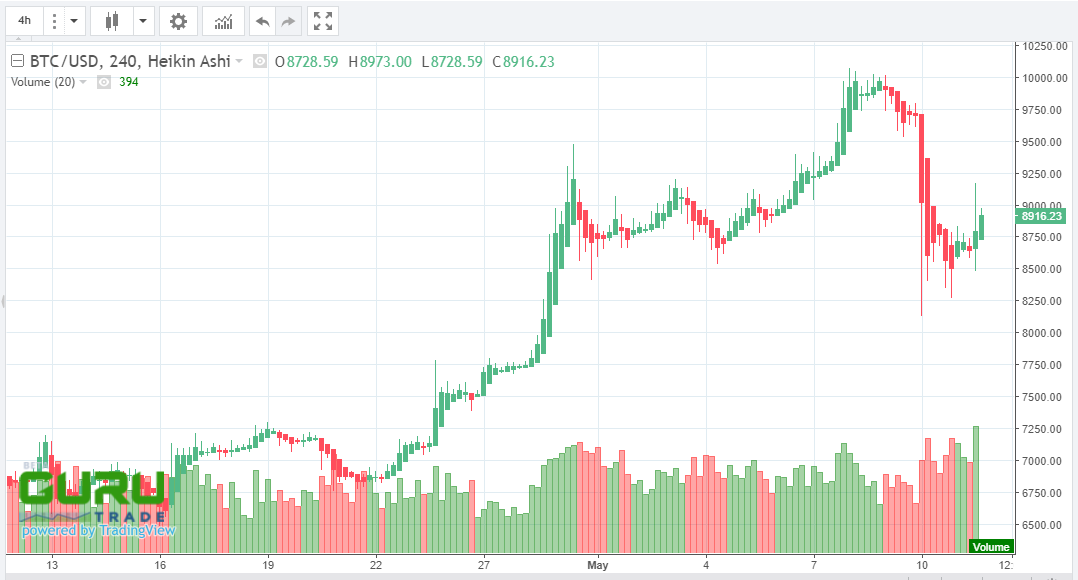 Digital assets began the week in the green, including bitcoin, which managed to reverse the movement reaching $9,077.61 at 1244 GMT, adding 4.01 percent on Monday.
As for the rest assets from the top ten most capitalized cryptocurrencies the rates were mixed after a drop over the weekend.
Ethereum advanced 0.56 percent, to $189,07;
Ripple rose slightly by 0.51 percent, to $0,197;
Tether added 0.03 percent, to $1,0005;
Bitcoin Cash slipped by 1.06 percent, to $232,90;
Bitcoin SV lost 1.93 percent, to $182,83;
Litecoin grew by 0.60 percent, to $42,15;
EOS went down by 0.53 percent, to $2,451;
Binance Coin eased by 1.27 percent, to $15,1551;
Tezos dipped by 5.46 percent, to $2,4893.
As of Monday, the maximum current value loss showed Tezos and Bitcoin SV.
Meanwhile, mere hours are left before the bitcoin halving to happen. One should remind, that this year there is a lot of pressure on halving. The Bitcoiners paint two scenarios for the cryptoworld: the halving will lead to BTC surge, or the most famous digital currency will get the status of digital gold, for yellow metal scarcity and stability. There are still those who in the crypto community also believes that the event will entail negative consequences.
Against the background of the approaching halving, users drew attention to the features of the BTC schedule. According to the popular analyst CryptOrca, the recent decline in the value of cryptocurrency was the result of a rebound in the asset rate from the resistance level.
Another well-known blogger in the crypto community, PlanB believes that at the moment BTC is pawing the way for a further active growth.
The BTC halving celebration is more significant than in other years, with livestreams and parties set up to offer insight into it—and far more participants of this event involved than in 2019.