The single European currency was in the positive territory during the Asian trading, trying to recoup the losses from the previous session. One should mention that the U.S. Leader announced his intention to cancel quarantine period in the United States, announced due to the spread of coronavirus, in three stages.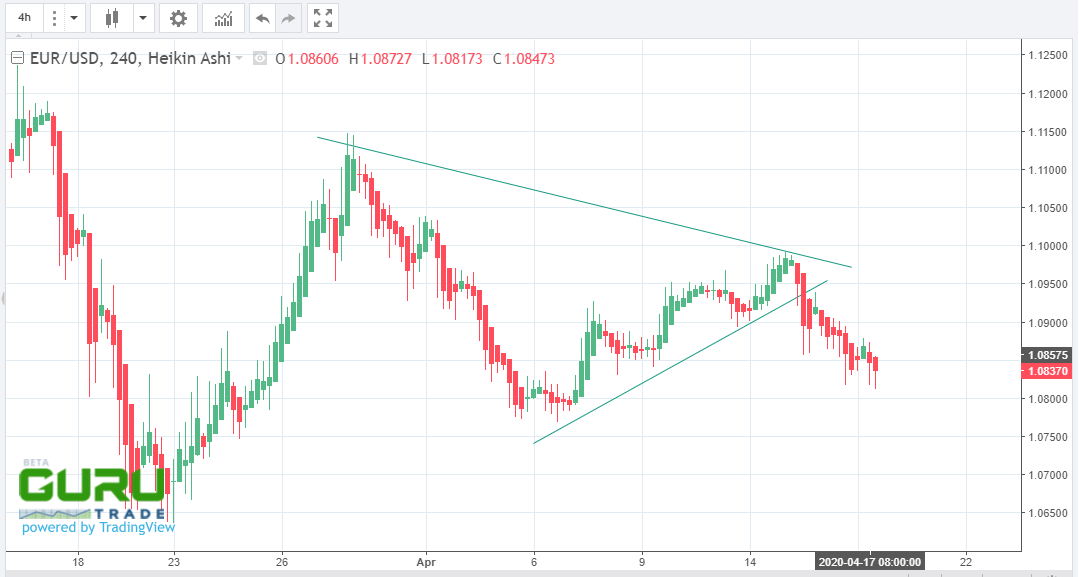 On Thursday, the EUR/USD currency pair in the first half of the trading session showed a downward movement to 1.0810-1.08820 channel, however, in the afternoon, Eurobrokers managed to win back some of the early losses. According to the important macroeconomic statistics, released on April 16 the final consumer price index in Germany showed a 0.1 percent growth in March, being in line with analysts' expectations. Moreover, the indicator increased by 1.4 percent at annual rate, which also met the market forecasts. The industrial production in the eurozone meantime showed a 0.1 percent contraction in February, though economists awaited even a deeper 0.2 percent drop, while the reading sagged by 1.9 percent on year-to-year basis, failing to meet the analysts estimates of a 2 percent decrease.
The Philadelphia Fed index of business activity was published, which in April reached -56.6 points compared with -12.7 points in March. Analysts had predicted a figure amounting -30 points. The report indicates, that the figure marked its lowest level since July 1980.
The number of initial applications for unemployment benefits was also disclosed, which amounted to 5,245 million per week, which ended on April 9 compared to 6,615 million a week earlier and against the forecast of 5.105 million. The figure exceeded 5 million for the third consecutive week.
In addition, the number of U.S. housing starts in March decreased by 22.3 percent to reach 1,216 million, marking the largest drop since July 2019.
Market participants will watch on last day of the week the U.S. leading indicator index due later this day. One expects that in the previous month this reading touces -7 points. The final consumer price index for March will be released in the eurozone. Important statements by representatives of the Fed and the ECB are not expected on Friday.
As you can see from the 4-hour chart, the EUR/USD currency pair forms a symmetrical triangle pattern with an upper border of about 1.0970 and a lower border in the region of 1.0830. Stochastic oscillator indicates the favorable buying signals and is located just above the oversold area, so testing the upper boundary of the triangle is allowed.
As for the current levels , the single currency gained 0.08 percent to the U.S. dollar, to trade at 1.0872 at 1331 GMT.