The USD/JPY pair has been drifting for third day in a row, repeatedly hitting the resistance level, which turned to be close to the 111.60 line. The price slid on Wednesday downwards the short-term uptrend barrier followed the bottom line, logged on March 9th, and later went down beneath the psychological line of 110.00. So, the short-term perspective likely to be cautiously negative.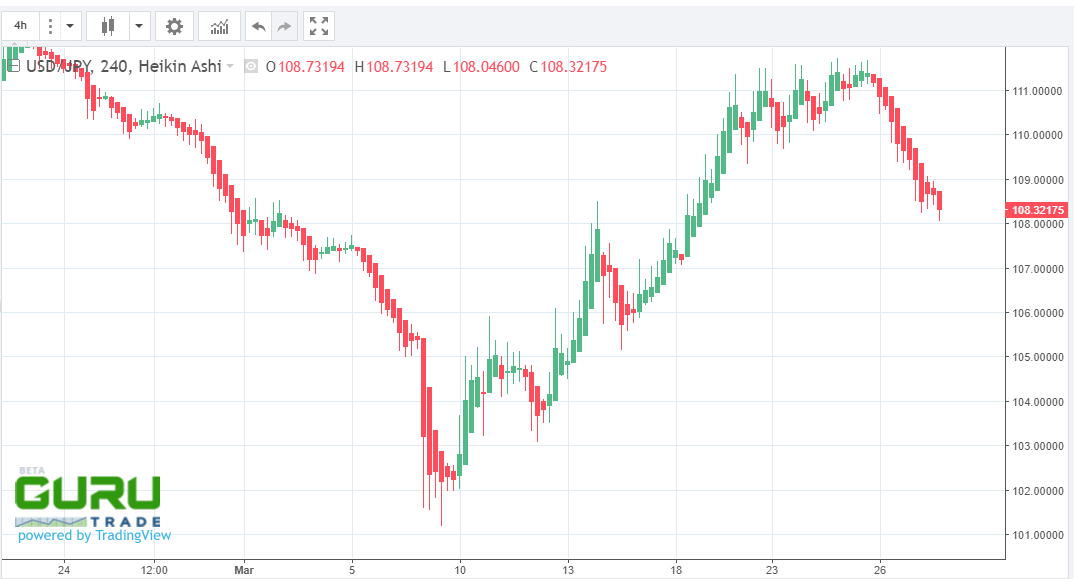 On Friday the USD/JPY price hit support near 108.20 and bounced slightly back, which hints that next recovery can be awaited before the further leg south, presumably for a test level near 109.60. If the bears consider to enter the ring, then a nearest aim to see might be 108.20 line again, which in case of a breakout may see decreases to 106.80 hurdle, which was being registered on March, 18th. The next break below the line 106.80 may have a more bearish potential consequences, with a possible slide towards the 105.60 zone.
In order to leave the bearish territory one would look for a sharp improvement above the level of 110.00, being a psychological line, but simultaneously this move may push some bulls to pick up momentum towards 111.60, the step, that assured strong resistance level between March 20th and 25th, or the 112.20 line, determined by the recent highs, logged on Feb. 19th and 20th. That said, before we start assessing the restoration of the latter short-term uptrend, meantime a sharp break above 112.20 is awaited. Such a step may propel the growth towards the 113.50, near the maximum level of Dec. 17th.
As for the rate on last day of the week, the Japanese Yen grew against the greenback for a 3rd day in a row on Friday to trade above 108.7, as investors are repatriating their foreign assets ahead of the financial year-end, only in order to re-invest at the beginning of the new fiscal year.
The yen has been under pressure as a rush to safe havens on the back of the virus outbreak weighs broadly.