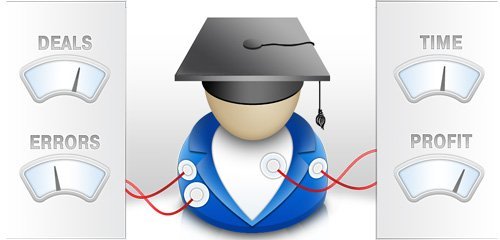 The trader has the possibility to trade Forex in two ways manually and automatically. In the former case the trader analyzes the Forex market and searches for fortunate moments to open trading positions by himself.
In the second case the trader needs just to start the trading robot and this robot analyzes the market and searches for necessary moments to enter it by itself. With the help of the trading robot the trader does not participate in the trading process.
A lot of beginners are interested in the Forex robots and they want to know how the robot works. Usually the beginners using robots in their trading, but the professionals do not prefer this method and use it once in a way.
Nevertheless, the functional efficiency of any trading robot depends on the professionalism of its creators. The principles of Forex expert advisor is based on a specific algorithm.
The vast majority of Forex expert advisor for automated trading are using different strategies as scalping, Martingale and some other options in their works. You should know that such robots which work is based on the Martingale strategy open minus orders more often than other one. Scalpers are also dangerous, but some traders have a good profit with their help. If the trader wants to use the expert advisor he should make the correct settings for his robot and control the robot work.
The trader should follow these rules if he uses Forex advisor in his trading:
1. The trader should test the script: First of all the trader can use demo account and special tester, because it will help the trader to identify the blind side in the program work and to realize use it in his trading or not.
2. The trader should start trading with the minimal lots: It will be better testing two robots with small deposit, because while tasting the program should show the efficiency of the robots work. And if one of them shows good result the trader can involve in his trading this robot and increase the trading volume.
3. The trader should follow the manual: If the trading robot has not instruction, it will be better to refuse using this robot, because the trader may not reach the expected result.
4. The trader should use the robot safety: For the trader it will be better to confirm the executed orders manually, because it helps to minimize the financial risks.
These rules are very important but we can not avoid the advantages of automated trading:
Automated trading gives the ability to trade during all sessions without the trader's active participation;
Exclude emotions from the trading process;
Permits history backtesting to sharpen the strategy and find the best characteristics for the trader's style trading.
With the help of these rules and advices the automated trading will be more effective and bring more profit for those who use it.