The main goal of trading on the Forex market is to make a lot of money and every trader trying to do this. Regarding for assets to trade, sometimes it seems that the huge part of traders do not pay attention to where they will have more possibilities for profit.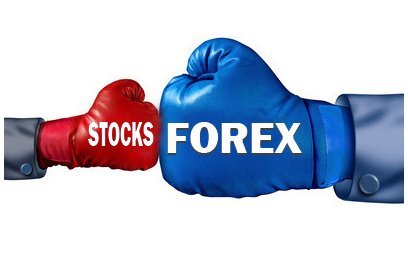 Traders do not adequately realize what would be better Forex trading or stock trading and after not a long period of time they could regret about their decision. Nevertheless, it will be a perfect idea to spend a certain time and think just once about whether Forex or stock trading is more convenient to your trading style and financial possibilities.
Stocks market
Speaking of stock each trader should know that there are just two ways to trade stocks. You can sell or buy actual stocks at a stockbroker, also you can choose Contracts for difference (CFDs) that based upon underlying stocks which as a rule to be the option offered by retail Forex or CFD brokers.
For example, if you are not ready to deposit $10,000 then you can start to trade stocks using CFDs. Also, it is important to consider that if you have a CFD based upon a stock you do not receive dividend payments that might be made if you were taken a similar stock position with a stockbroker.
Without any the cost of trading stock CFDs with retail brokers are higher than the costs involved in trading.
Leverage importance
Most retail traders pay their attention to the leverage and how much leverage will be better to use. Looking at stock and taking into consideration all aspects, the maximum leverage in case if you are purchasing real stocks from a licensed broker and your maximum leverage if you buy the stock should be 2:1, but if you stocks short over 3:1 to 1:1 it depends on the stock price.
Moreover, retail brokers offer to traders CFDs that are based on the price of the stock, while Forex brokers offer maximum leverage approximately 100:1 on currencies and 20:1 on individual stocks. According to this the trader could have more possibilities for profit on the Forex movement than on stock.
Forex market
Forex market is manipulated by frequent algorithms and has a tendency to be less volatile. The advantage of the Forex market is a fact that it opens 24 hours five day in a week, and of coruse in the stock market you have not this opportunity. Thus, Forex market is the largest and most liquid of the all financial markets.
Every trader can start his trading career in Forex with a small amount of money. Forex market can be traded anytime and anywhere and traders have a chance to make a profit during downtrends and uptrends.
In conclusion, if you have enough money and a lot of free time you can try to make a maximal profit in the stock market. But, in case, that you just trying to start trading and you have not enough money in your pocket it will be better trading Forex via broker.